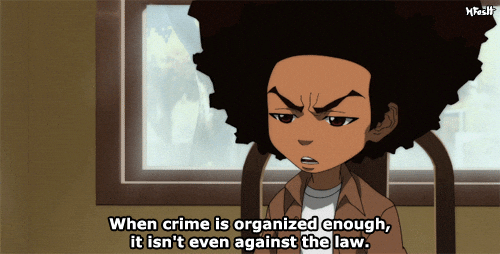 Aaron McGruder was born in Chicago, Illinois in May of 1974. At the University of Maryland, he was an African American Studies student and budding artist. It was at the university that he first created The Boondocks.
"The creation of 27-year-old cartoonist Aaron McGruder, Huey Freeman appears daily in The Boondocks, a comic strip featured in 250 of America's largest newspapers, including the Atlanta Journal Constitution, Washington Post, Dallas Morning News, Chicago Tribune, Los Angeles Times and Philadelphia Inquirer. People said "I think that not only is he doing good stuff, the fact that he is on those comics pages makes it important in a way that none of the rest of us could accomplish. He's hooking a whole group of people. He's getting ideas out to people who don't always read the opinion pages. And he's influencing a lot of young people about how it's OK to question their government and the media. At a time when most comedians were still pulling their punchlines, McGruder got plenty of laughs at the expense of the Bush Administration and its policies. But not everyone was amused. In early October 2001, the cartoonist had Huey call the FBI's antiterrorist hotline to report that he had the names of Americans who trained and financed Osama bin Laden. When the FBI agent said that, yes, he wanted the names, Huey began, "All right, let's see, the first one is Reagan. That's R-E-A-G…" This series of strips was pulled from the New York Daily News and Newsday and shuffled off comics pages at other papers. Editors were quick to deny they were censoring The Boondocks, claiming they simply thought McGruder had gotten a little too political. McGruder played the controversy into more laughs. McGruder, whose cartoon began appearing nationally in April 1999, says he did not set out to make Huey the nation's No. 1 dissenter. Yes, The Boondocks–which recounts the experiences of Huey and his younger brother, Riley, inner-city youths who move with great trepidation to the suburbs–has always been controversial. Bitingly blunt in its examination of race and class issues, The Boondocks has made more waves more often than any nationally syndicated comic strip.
McGruder and his preteen characters would challenge a popular President and his policies with little cover from allies in the media or Congress. "Sometimes, I do look around and say to myself, 'Gee, I'm the only one saying some of these things.' That can make you a little paranoid. But I don't think that's a reflection on me so much as it is a reflection on how narrow the discussion has become in most of the media today. The media has become so conglomerated that there really are very few avenues left for people to express dissent," says McGruder." (The Nation)
Aaron McGruder's The Boondocks evolved from a college campus cartoon to a nationally published cartoon, and to a television show. It was a bit of McGruder's rebellious side that  gave the series controversial publicity. Growing up, I remember seeing the comic strip in the Sunday Atlanta Journal Constitution. At the time, I did not understand most of the jokes. The comic strip had typical jokes usually.
Other times, it was controversial. If you ask me, everything that McGruder does or says has a message. Through his set of characters, he always finds a way to express his ideas. In the comic strip above, he takes aim at a particular clothing brand – FUBU For Us, By Us made by and created for African Americans. The brief comic strip talks about the "gratuitous" appearance of the clothing and being "jiggy" with the times. It is the character, Huey Freeman that makes the boldest statements on one's self and society.
Most of my fascination with Aaron McGruder's The Boondocks series has come from the animated show. The show combines many aspects of black culture, representing them in an accurate and comical manner. This author does not feature himself as a central character within the media narrative, but still constructs a peripheral identity within the narrative. Aaron McGruder is really Huey Freeman.
Huey is the one character who always takes a stand. Speaks his mind. Rebels against the norm. Fights for justice. And tries to warn people of potential flaws or mishaps. McGruder's voice is expressed through all of his characters at times, but Huey fits the description better.
McGruder has influenced me over the years from watching his televised animated series. I have learned some lessons in communication and individuality. Stand up and stand out; you don't always have to follow the crowd. Trying to help others is a good thing, but people don't always want to be helped or don't take the advice given. McGruder makes attempts to change African American culture one comic strip and one episode at a time. I would like to do the same.
Sources
http://www.thenation.com/article/huey-freeman-american-hero
http://www.imdb.com/name/nm1412298/bio
http://www.thefamouspeople.com/profiles/aaron-mcgruder-595.php
https://www.youtube.com/watch?v=qyQrh2GpT-g
http://www.okayplayer.com/news/aaron-mcgruder-adresses-stepping-down-from-the-boondocks.html